Paradise Villas: Your Ideal Residential Haven
Paradise Villa's is a project of Build Viser Associates on main Islamabad Expressway, Islamabad. Paradise Villa's offer remarkable 05 Marla executive villa's with flexible payment plan as per needs of client.
Are you in search of the perfect residential project that offers luxury villas, an enviable location, and flexible payment options? Look no further than Paradise Villas! It is an esteemed residential project nestled in Islamabad, conveniently located on the bustling Islamabad Expressway. With its exceptional features and remarkable amenities, Paradise Villas is the ultimate destination to fulfill your dream of owning a splendid home.
2. Prime Location: Islamabad's Jewel
What sets Paradise Villas apart from the rest is its prime location in the heart of Islamabad. Situated along the prominent Islamabad Expressway, this project offers unmatched accessibility and connectivity. Residents can relish the ease of reaching major commercial centres, renowned educational institutions, top-notch healthcare facilities, and recreational hotspots.
Living in Paradise Villas means experiencing the best of both worlds. While you remain well-connected to the vibrant city centre, you can also retreat to the peaceful embrace of your luxurious villa within Paradise Villas. The strategic location ensures effortless commuting, enabling you to fulfil your professional commitments, run errands, and partake in the city's dynamic lifestyle, all while savouring the serenity of your dream abode.
3. Paradise Villas Payment Plan
At Paradise Villas, we comprehend that everyone's financial circumstances differ. Hence, we present a highly flexible payment plan tailored to accommodate diverse budgets. Our aim is to transform your dream of owning a villa into a tangible reality, without compromising your financial stability.
Whether you prefer a shorter payment duration or require a longer-term plan, we have customizable options designed just for you. Our payment plans can be personalized to span anywhere from one to three years, ensuring that you can invest in your dream villa without experiencing financial strain. We prioritize your peace of mind and convenience throughout the payment process, making Paradise Villas the perfect choice for your new home.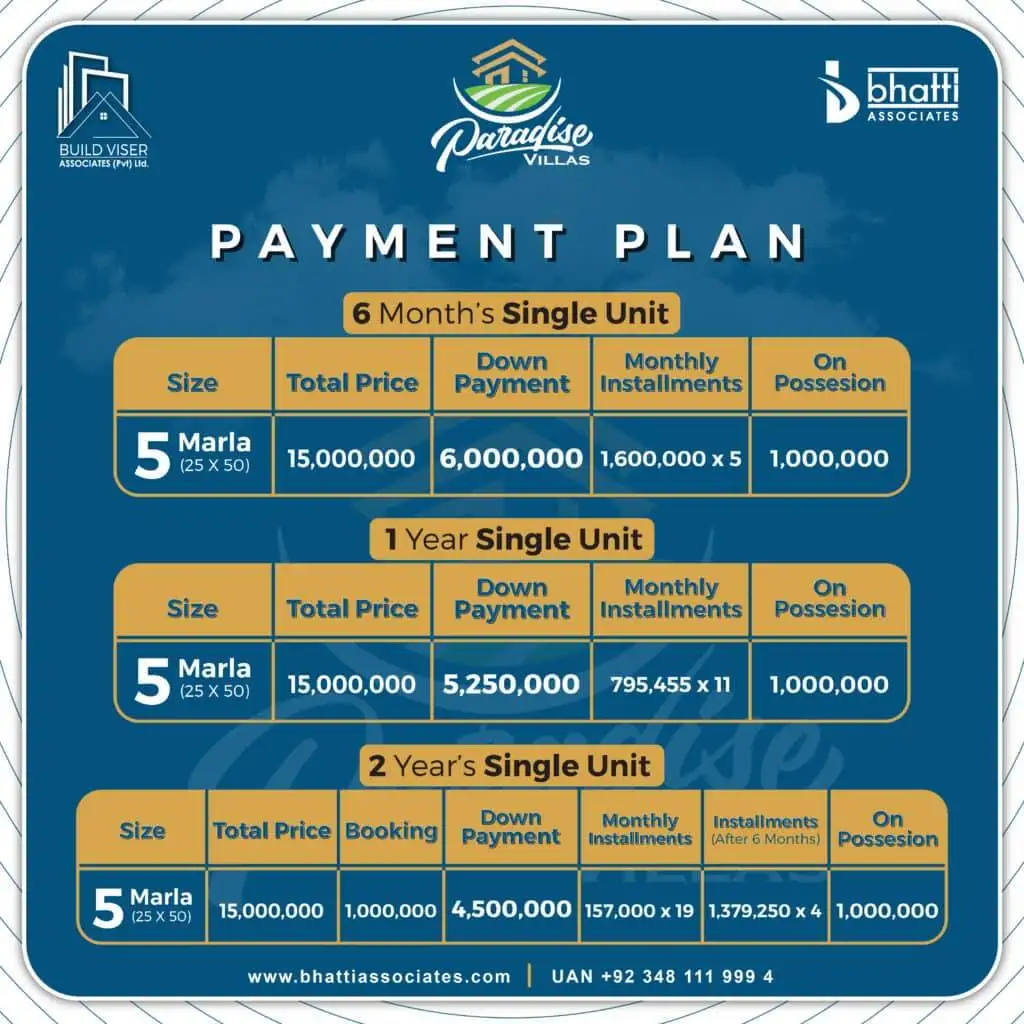 4. Unparalleled Utilities for Unmatched Comfort
Paradise Villas not only offers opulent living spaces but also provides an array of essential utilities to guarantee a comfortable and convenient lifestyle for its residents. Our commitment to delivering superior infrastructure and services is evident in the following utilities:
Gas:
Relish uninterrupted access to natural gas, enabling you to cook delectable meals and keep your home cozy during chilly seasons. Gas availability at Paradise Villas ensures a reliable and efficient energy source right at your fingertips.
Electricity:
Bid farewell to power outages and embrace a lifestyle of uninterrupted electricity supply. Paradise Villas boasts a robust electrical system, allowing you to enjoy all modern comforts without any disruptions.
Sewerage:
Proper sanitation and effective waste management are crucial for a healthy living environment. Paradise Villas features a well-designed sewerage system that efficiently manages waste, providing a clean and hygienic atmosphere for residents to cherish.
Carpeted Roads:
Smooth and well-maintained roads enhance the overall living experience within a residential community. Paradise Villas takes pride in its carpeted roads, not only elevating the project's aesthetics but also ensuring a comfortable driving experience for residents and their esteemed guests.