Gulberg Islamabad is a project of the Intelligence Bureau Employee's cooperative housing society (IBECHS). Gulberg Islamabad is situated at the heart of Islamabad accessed through the Islamabad expressway, a six-way signal-free route carrying all the commercial and public activity, which connects it to the surrounding areas. It is a serene and hassle-free society, well maintained and thoroughly planned.
A place is welcoming you into the greenery of Islamabad, having a bliss of newness, with all of its operations up to date with the international standards and the eco-friendly housing schemes, offering all in all an executive lifestyle at your doorstep.
Having a home here would mean a world of calm atmosphere, with the distances from Airport Chowk 0.5 km, Faizabad 9km, Zero-point 12.5km, Islamabad club 12km, and Rwp Distt. Court 8km, you can reach the beautiful city within minutes of drive from any Islamabad corner, such a superb opportunity that many of you would not want to miss and Souq al'Ard (Pvt) Ltd. is here to help you out to make an active investment decision after narrowing down the best possibility for your requirements.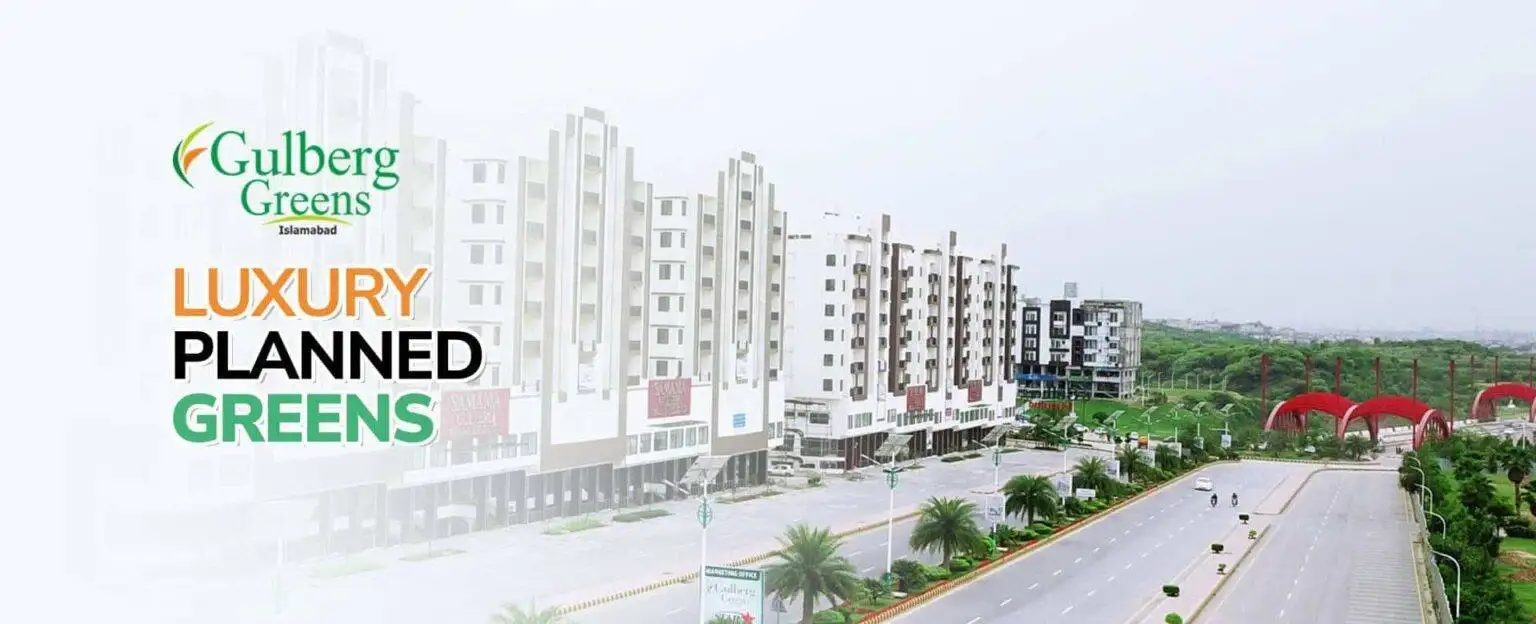 Gulberg Islamabad is comprised of two main categories in terms of land,
Gulberg Greens Islamabad & Gulberg Residencia Islamabad.
All the reliable bank outlets are available in Gulberg for smooth transactions, a number of food chains and shopping points are already established, so one can have the luxury of dining and shopping inside the premises of the society. Gulberg has asserted that the 80% of the acquired land will keep and maintain its green zones and the construction will be done only on the rest of the 20% of land.
Gulberg Greens Islamabad​
Gulberg Greens is situated in Zone 04 of Islamabad and attains the Farm Houses mainly of sizes 4 kanal, 5 kanal and 10 Kanal. The division of farm houses is exquisitely distributed on both side of the main boulevard in shape of Blocks from A to E with an extension of Executive Block. All the blocks have their dedicated commercial hubs with the state of the art designs and facilities. It also has a dedicated golf ground and a scenic lake.
Gulberg Greens offers a phenomenal way of living that the suburb has experienced over the last decade. It offers tranquility and placidity as it has its own peculiar atmosphere yet it connects the residents to the other parts of the city fluently. It also offers reliability in terms of short term and long term investment.
Gulberg Greens CDA Approved Map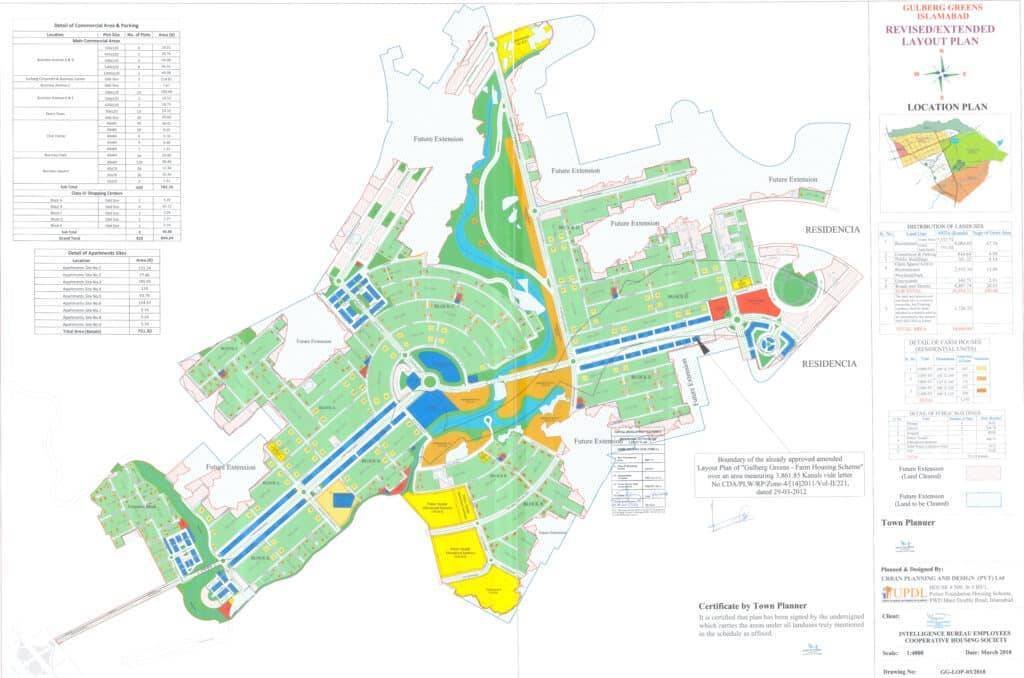 Different Blocks in Gulberg Greens Islamabad
Executive Block
A Block
B Block
C Block
D Block
E Block
Executive Block
Executive block is the extension block located at the start of Gulberg green, as one enters the society through Gulberg express way it can be accessed right before the Quaid Azam bridge.
There are two sizes available for the form houses i.e. 4 and 5 kanal. There is a limited number of 4K and 5K farmhouses available which is around 63 and 43 respectively. It has a dedicated Commercial Hub known as Civic Center.
A number of Arabic cuisine egresses and corporate offices have already established their outlets at the civic center, to name a few recognized entities are Albaik, The House of Mandi, Chicken Cottage and Teradata.
Functional banks in this block are The bank of Punjab and Meezan Bank.
A Block
B Block
C Block
D Block
E Block
Gulberg Residencia Islamabad
Gulberg Residencia encompasses residential plots categories mainly (5,6,7,10,12) marla and (1,2) kanal. The location of these plots is just down to the Gulberg Greens. The area is expanding exponentially and holds a promising future in terms of investments and propitious residential establishing.
Have you always wanted to build a house in a safe and luxurious housing society in Islamabad? Here is your chance to have your abode in the city's most sumptuous area, the Gulberg Islamabad.
A house should make us fall in love with it, and the right locality and well-timed decision-making can help us to achieve this gratification. 
Gulberg Residencia offers plots of different sizes to meet your family's desire to build a dream house. As an ecstatic housing community, Gulberg Residencia renders its residents to live in a healthier green, placid, and calm environment among all the luxuries. The housing society is a modern-day accomplishment in itself and stands amongst the prominent residencies in the country.
As an investor, it guarantees you a profitable investment outcome. Buy today and sell when you feel right. As a proprietor, you can build your dream house in the most stylish and sophisticated housing community. Here are all the details you need to know about the Gulberg residencia.
Gulberg Residencia CDA Map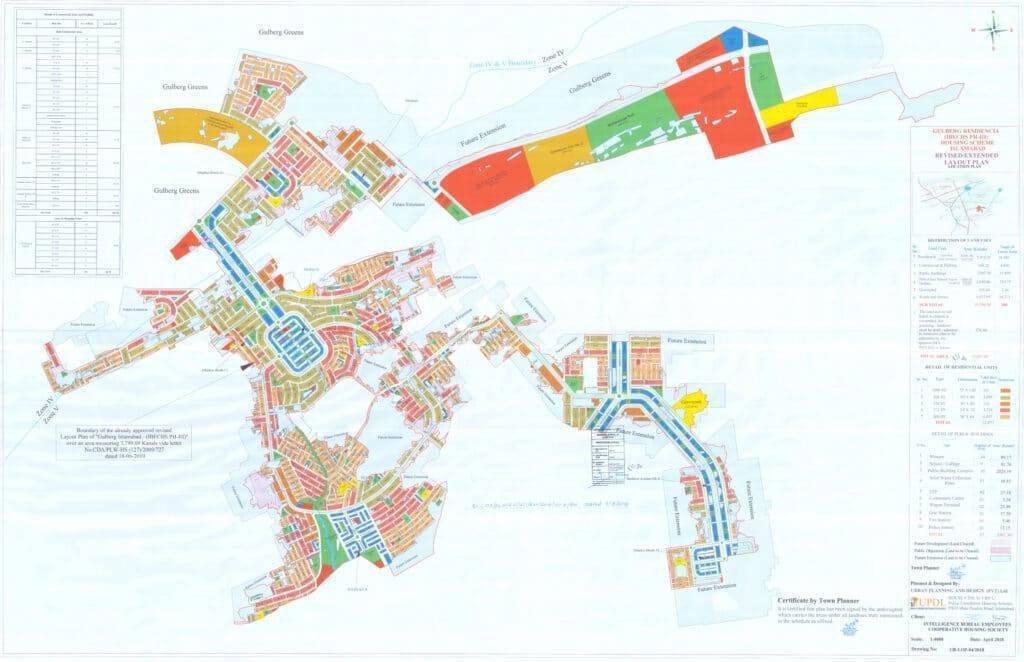 Different blocks in Gulberg Residencia
Development of projects and other futuristic ventures are trending at a fast pace in Gulberg Residencia. It has attracted the attention of a large number of people, and thus the plots are rapidly being sold. The launch of the D Markaz, which is the main commercial Block, has further added to its value and demand of the plots of the society. Blocks that are closer to D Markaz, such as Block E, Block C, Block H, Block I, Block J, Block K, are in high demand. Another reason for their high demand and higher prices is their link to Circular Avenue and a direct connection to D-Markaz. In addition to that, the intra-block commercial plots development has also contributed to the higher stipulation. 
Here is an insight into the different blocks and their status of possession, development, and location.
A Block
A Executive Premium
B Block
C Block
D Block
E Block
E-Executive
A Block
Block A is the closest of all the blocks to Gulberg Greens. Gulberg green is a deluxe area, and that is why many people prefer a house in a block of Gulberg Residencia that is closer to Gulberg greens. This is one of the major reasons for its high value and demand, and thus the plot rates are fairly higher. There are around 11 parks, and the plot sizes vary between 7 Marla,10 Marla,12 Marla, 1 Kanal, and 2 Kanal. Due to high demand, all of the plots in Block A have already been sold, and a majority of them are now available for resale. Like all the other blocks, Block A comprises developed, semi-developed, and non-developed plots. There is a possibility for everyone, either one wants to build or buy for investment purposes. It also consists of commercial plots available for high-end and day-to-day businesses, renowned brands as well as grocery stores, breakfast points, meat shops, etc.
A Executive Premium
B Block
C Block
D Block
E Block
E-Executive
F Block
F Executive
G Block
H Block
I Block
J Block
K Block
F Block
F block is connected to the E block via East Avenue, which is around 100" wide and is directly connected to the G block. It is also linked to the H block via East Avenue. Like the E block, the F block is almost developed, with possession being granted to the owners. With the plot sizes of 10 Marla and 7 Marla, the Block is preferred by the owners eyeing smaller plots. Construction work has started on many plots, and a lot has already been constructed.ontent
F Executive
G Block
H Block
I Block
J Block
K Block
L Block
M Block
N Block
O Block
P Block
Q Block
R Block
L Block
Block L is located on the side of the circular Avenue directly opposite Block K and is further connected to Block M, Block R on one side, and block J on the other side. The plot options you have in block L are again 7 Marla, 10 Marla, and 12 Marla. 65% of the Block has been developed, and possession on 7 and 10 Marla plots has begun. In addition to that, a lot of residential houses are already under construction.
M Block
N Block
O Block
P Block
Q Block
R Block
S Block
T Block
V Block
AA1 Block
S Block
Right next to the R block, Block S is located, closer to the side of circular Avenue. Block S only has 1 Kanal plot cutting, though the development in the Block has reached around 20%, possession is yet not available. It also encompasses a college along with parks and a mosque.
T Block
V Block
AA1 Block
The developers have paid great attention to bringing modern-day facilities to the residents of the Guldberg Residencia. This is reflected through the development of a large number of grand projects and the continuous supply of basic facilities. Among the commercial hubs, there are Rabi Center Gulberg and Magnus Mall. In addition, Gulberg Grid Station ensures that the residents enjoy an uninterrupted electricity supply. The wide and spacious roads and streets allow easy transport. The society has dedicated tracks for walking and jogging. It also features gymnasiums, fitness clubs, auditoriums, public libraries, sports complexes, golf clubs, theater, cineplex, hotels, and elite dining places.Gulberg Residencia allows its occupants to adopt a carefree and safe lifestyle by inhabiting Pakistan's top-class housing society. Due to its serene environment, scenic beauty, well-organized and planned infrastructure, rapid development, it has become an ideal residential community for potential buyers and investors. It has been designed to bring the best of both, beauty of nature and modern-day living amenities.