Gulberg Islamabad is a project of the Intelligence Bureau Employee's cooperative housing society (IBECHS). Gulberg Islamabad is situated at the heart of Islamabad accessed through the Islamabad expressway, a six-way signal-free route carrying all the commercial and public activity, which connects it to the surrounding areas. It is a serene and hassle-free society, well maintained and thoroughly planned.
A place is welcoming you into the greenery of Islamabad, having a bliss of newness, with all of its operations up to date with the international standards and the eco-friendly housing schemes, offering all in all an executive lifestyle at your doorstep.
Having a home here would mean a world of calm atmosphere, with the distances from Airport Chowk 0.5 km, Faizabad 9km, Zero-point 12.5km, Islamabad club 12km, and Rwp Distt. Court 8km, you can reach the beautiful city within minutes of drive from any Islamabad corner, such a superb opportunity that many of you would not want to miss and Souq al'Ard (Pvt) Ltd. is here to help you out to make an active investment decision after narrowing down the best possibility for your requirements.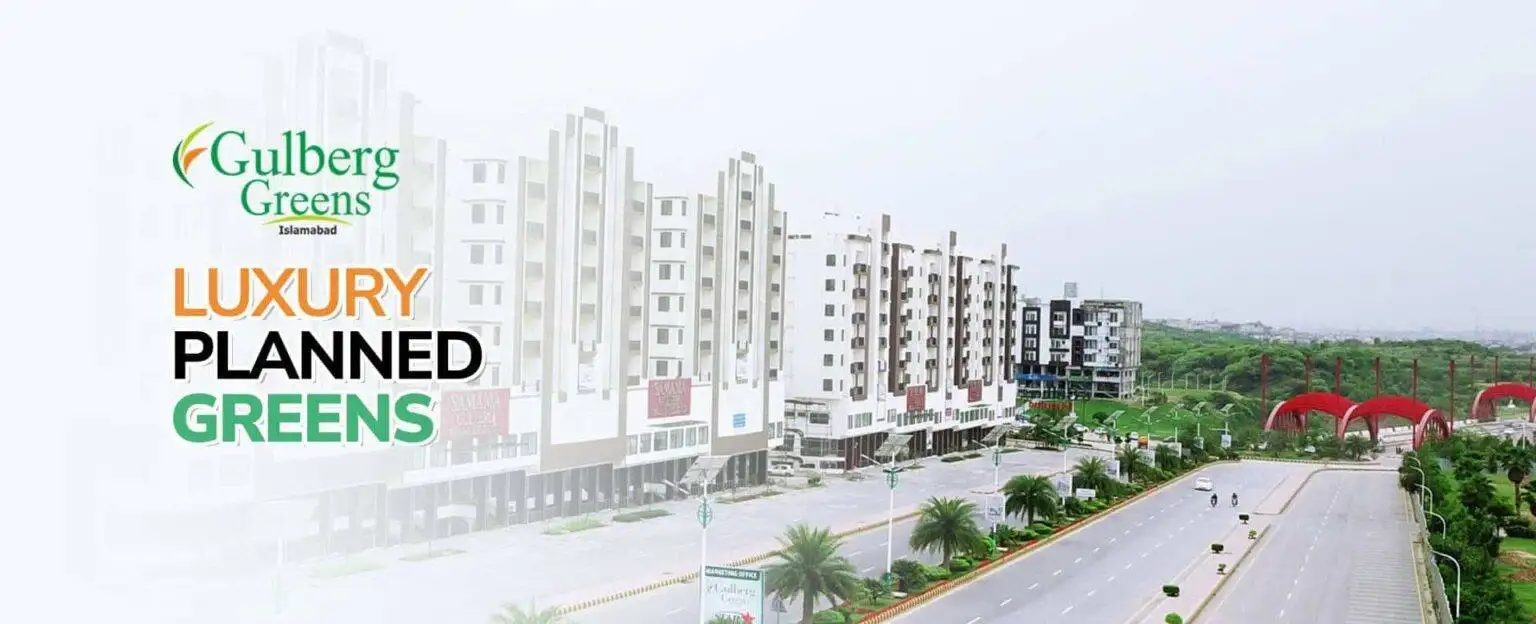 Gulberg Islamabad is comprised of two main categories in terms of land,
Gulberg Greens Islamabad & Gulberg Residencia Islamabad.
All the reliable bank outlets are available in Gulberg for smooth transactions, a number of food chains and shopping points are already established, so one can have the luxury of dining and shopping inside the premises of the society. Gulberg has asserted that the 80% of the acquired land will keep and maintain its green zones and the construction will be done only on the rest of the 20% of land.
Gulberg Greens Islamabad​
Gulberg Greens is situated in Zone 04 of Islamabad and attains the Farm Houses mainly of sizes 4 kanal, 5 kanal and 10 Kanal. The division of farm houses is exquisitely distributed on both side of the main boulevard in shape of Blocks from A to E with an extension of Executive Block. All the blocks have their dedicated commercial hubs with the state of the art designs and facilities. It also has a dedicated golf ground and a scenic lake.
Gulberg Greens offers a phenomenal way of living that the suburb has experienced over the last decade. It offers tranquility and placidity as it has its own peculiar atmosphere yet it connects the residents to the other parts of the city fluently. It also offers reliability in terms of short term and long term investment.
Different Blocks in Gulberg Greens Islamabad
Executive block is the extension block located at the start of Gulberg green, as one enters the society through Gulberg express way it can be accessed right before the Quaid Azam bridge.
There are two sizes available for the form houses i.e. 4 and 5 kanal. There is a limited number of 4K and 5K farmhouses available which is around 63 and 43 respectively. It has a dedicated Commercial Hub known as Civic Center.
A number of Arabic cuisine egresses and corporate offices have already established their outlets at the civic center, to name a few recognized entities are Albaik, The House of Mandi, Chicken Cottage and Teradata.
Functional banks in this block are The bank of Punjab and Meezan Bank.
Moving forward, right after the executive block, on the left of the blue area is A-Block. The front two to three rows of land are comprised of 10 kanal farmhouses and then 5 kanal and 4 kanal afterwards. All the area is developed and possession is available, approximately 40% of the farmhouses are already built.
A number of IB elite officials have been living here. This block is heighted as compare to the rest of the land.
It has access to a two-sided commercial square which has a number of renowned projects, that are Gulberg mall and signature living occupied 16Kanal of land and it is Gulberg green's largest project.
Other than this, Prisim heights (8K), AJ Towers (8K), Gulberg Arena (8K), Gulberg Heights (8K) and The Plazo (4K) are a part of this block. All these commercial projects hold a verity of investment opportunities.
The functional outlets are Chay khana, Bata store, a mobile manufacturing company "Elephone" has resumed its operations and a futsal ground for physical activity is also available. Functional bank in block A is Fysal bank Ltd.
Available sizes of block A are
B block is emplaced on the right side of the main Boulevard of blue area approaching from the main entrance. Farmhouse plotting is same as the other blocks maintaining the hierarchy of 10 kanal, 5 Kanal and 4 Kanal. The Headquarters of Gulberg is operating from this block; all the transfer of land and verification is managed from this head office.
Another prominent feature of this block is that the IBECHS official farmhouse is constructed on 40 kanals for the official meetups and activities.
Telenor head office is also built here. This block has a lot of commercial dominance, hence possess relative investment opportunities.
A few commercial projects to name are SMAMA Star(8K). SMAMA Gulberg(8K), Sky Park One (8K), The Luxus Mall (8K), Diamond Mall and Residency (8K) and Karakorum Heights with a lake of majestic view.
A Dedicated land has been provided for the construction of a University in near future. Functional banks in this block are UBL, Allied bank, Askari bank, JS Bank, Habib Metro and Soneri bank.
The available farmhouse sizes are
C block has a prominent location as it is positioned at the heart of Gulberg greens. It has the same farmhouse distribution, 10 kanal, 5 kanal and 4 kanal.
The standout features of this land are, it will have a 5-star hotel in the near future which is the only 5-star in the Gulberg, a dedicated golf course and a beautiful lake which surrounds approximately the whole block, it is the largest in the whole Gulberg.
A petrol pump will be established in the near future. A colossal business square which will serve both C and A blocks. Frobels is a school which has resumed its operations and a number of students are getting standard education there.
All these features provide a fantastic atmosphere for business investments and are conspicuous reasons for the higher prices in this area. An alternative entrance is also in the planning phase which will connect the society with the Lehtrar road.
The available sizes are
D block is located right after the C block, very well connected with the main roads, the Gulberg expressway (220'), Pine avenue North (160'), Margalla avenue (160') and Lake avenue East (160').
It will also be connected to the alternate entrance with the Lehtrar road. 10 Kanal, 5 kanal and 4 kanal plots are available with golf course and lake facing categories which make them striking for investments.
This block has a dedicated land for Ripah University Campus which is in the building phase and a Hospital which will be under construction in near future.
The only IB official apartments are built in the block known as Dream heights, these apartments are a real example of state of the art infrastructure. Ongoing commercial projects are Alkamal heights(4K), Serene Heights (4K), Twin Towers (4K) and Ares Tower (4K).
The available sizes are
E block is the last one in the list of Gulberg green's blocks. It has the same hierarchy of 10 kanal, 5 kanal and 4 Kanal farmhouses. It is very well connected with the rest of the blocks through Gulberg expressway (220') and Pine avenue South (150'). Maximum area of this block is already developed and possession available.
The ongoing commercial projects are Diamond Greens (4K), Marina Heights (4K) and Gevora (4K). It offers equal opportunities of long term and short term investment opportunities.
Available sizes are
Gulberg Residencia Islamabad
Gulberg Residencia encompasses residential plots categories mainly (5,6,7,10,12) marla and (1,2) kanal. The location of these plots is just down to the Gulberg Greens. The area is expanding exponentially and holds a promising future in terms of investments and propitious residential establishing.
Have you always wanted to build a house in a safe and luxurious housing society in Islamabad? Here is your chance to have your abode in the city's most sumptuous area, the Gulberg Islamabad.
A house should make us fall in love with it, and the right locality and well-timed decision-making can help us to achieve this gratification. 
Gulberg Residencia offers plots of different sizes to meet your family's desire to build a dream house. As an ecstatic housing community, Gulberg Residencia renders its residents to live in a healthier green, placid, and calm environment among all the luxuries. The housing society is a modern-day accomplishment in itself and stands amongst the prominent residencies in the country.
As an investor, it guarantees you a profitable investment outcome. Buy today and sell when you feel right. As a proprietor, you can build your dream house in the most stylish and sophisticated housing community. Here are all the details you need to know about the Gulberg residencia.
Overview Gulberg Residencia
Gulberg Residencia and Gulberg greens are the two main entities of Gulberg Islamabad, a project developed by the Intelligence Bureau Employees Cooperative Housing Scheme (IBECHS). While the Gulberg Greens provides a wide range of plots for farmhouses, Gulberg Residencia offers residential plots of 5 Marla (in Block AA1 and AA2 only), 7 Marla, 10 Marla, 1 Kanal, and 2 Kanal. The project spans over 15000 Kanal of land consisting of around 10,000 residential plots. The whole area is divided into 21 blocks from A to V, excluding U.
The residential plots also encompass commercial plots dedicated to keeping the area full of businesses and opportunities. In addition to mini commercials dedicated for each Block, the project encompasses a large D-Markaz at the heart of residential blocks, which is the main commercial hub and a reference point of the society.
The area is designed to bring all the facilities to your doorstep. It is like living in an independent town where one can move freely without any fear. It keeps you close to nature with greenery and adequate plantation. Among the small residential plots, dedicated areas for schools, colleges, parks, shopping malls, playgrounds, hospitals, and mosques are allocated. The developers also made sure that you have an uninterrupted supply of electricity, clean water, internet, and telephone lines.
Gulberg developers have named the commercial plots along the Gulberg Expressway passing through A & B blocks of residencia leading towards Commercial D Block as Blue area.
So far, buyers can get possession of plots in multiple blocks, including Block C, Block E, Block F, and Block J. A large number of plots of H, O, V, T, and L blocks are also developed now. The K block, however, is completely undeveloped.
Exact location: It is located in CDA zone Five. To identify its exact location, about the Islamabad Highway, it is just 6 to 7 KM far from it. It is linked to the Gulberg Greens via the Javed Noor Bridge through a 220 ft wide Gulberg Expressway.  
Landmarks: By residing in Gulberg Residencia, one can enjoy the privilege of living closer to the twin cities: Islamabad and Rawalpindi. It is easy to reach the society via various routes such as from Aabpara (20 kilometers), from T-Chowk Rawat (15 kilometers), Koral Chowk (8km), and Gulberg Expressway and Islamabad Expressway (20 kilometers). The Islamabad Expressway is a 28-km signal-free and quick access route between Islamabad and Gulberg.
Link with Naval Anchorage: The main gate of Gulberg Residencia is at Chak Shahzad and Naval Anchorage and thus shortening a lot of distance. It is located near the V block. Gulberg Residencia is surrounded by numerous landmarks further contributing to its value, including lake View Park which is 25km away, Kachnar Park, Shakarparian, and Mohammed bin Qasim Park.
Different blocks in Gulberg Residencia
Development of projects and other futuristic ventures are trending at a fast pace in Gulberg Residencia. It has attracted the attention of a large number of people, and thus the plots are rapidly being sold. The launch of the D Markaz, which is the main commercial Block, has further added to its value and demand of the plots of the society. Blocks that are closer to D Markaz, such as Block E, Block C, Block H, Block I, Block J, Block K, are in high demand. Another reason for their high demand and higher prices is their link to Circular Avenue and a direct connection to D-Markaz. In addition to that, the intra-block commercial plots development has also contributed to the higher stipulation. 
Here is an insight into the different blocks and their status of possession, development, and location.
Block A is the closest of all the blocks to Gulberg Greens. Gulberg green is a deluxe area, and that is why many people prefer a house in a block of Gulberg Residencia that is closer to Gulberg greens. This is one of the major reasons for its high value and demand, and thus the plot rates are fairly higher. There are around 11 parks, and the plot sizes vary between 7 Marla,10 Marla,12 Marla, 1 Kanal, and 2 Kanal. Due to high demand, all of the plots in Block A have already been sold, and a majority of them are now available for resale. Like all the other blocks, Block A comprises developed, semi-developed, and non-developed plots. There is a possibility for everyone, either one wants to build or buy for investment purposes. It also consists of commercial plots available for high-end and day-to-day businesses, renowned brands as well as grocery stores, breakfast points, meat shops, etc.
For Complete Details about Block "A Executive Premium" like "Payment Plan", "Map", "Location" etc visit A Executive Premium Official Page.
A Executive Premium offers an outstanding opportunity for individuals to own their dream plot in a prime location without the pressure of paying the full amount upfront. With flexible payment plans spanning three years, customers can choose from a variety of plot sizes ranging from 5 Marla to 01 Kanal. Moreover, the project's prime location in Gulberg Islamabad, situated on a 220-foot main road, provides easy access to major road networks and other amenities, making it an excellent investment opportunity. With attractive discounts, investors can benefit from steady returns on investment. Overall, A Executive Premium is a project worth considering for those seeking a luxurious lifestyle and a sound investment opportunity in the real estate market.
It would be disappointing not to find the plot of choice in Block A due to lesser availability, but fortunately, there is a way of availing the same facilities by buying a plot in A-Executive Block. The A-Executive has the same plot sizing of 7 Marla,10 Marla, 1 Kanal, and 2 Kanal. It is adjacent to Block A and is linked through sports Avenue. The buyers who invest in plots of A-executive can enjoy the autonomy of choosing the plot location of their own choice. There is no difference in Block A and A-executive, as the land was acquired later and was named as A-executive to keep the synchronization of block naming topology.
Blue Area Main Boulevard, which is around 220' wide, separates block B from block A. It contains plots of sizes 7 Marla, 10 Marla, and 1 Kanal. The Block also accommodates numerous parks where you can spend your evenings or enjoy morning walks. How heavenly would it be to wake up to the sight of lush green grass and colorful flowers across the window! Those who need a home in a location like this should wait no more. Here one can see amenities like schools, mosques, and small commercial hubs. Development work on around 120 1 Kanal plots has been completed, while the other 90% of plots are still under development. One distinctive feature of the B Block is that it is the most heightened Block of the Gulberg Residencia.
Block C is connected to Block B via West Avenue. It is also directly connected to D Markaz, which adds tremendously to its value. It is one of the reasons that the plot prices in Block C are comparatively higher than those blocks which are located farther from D Markaz, such as the M block. The plot sizes available here are 7 Marla,10 Marla, 12 Marla, and 1 Kanal. A major area of land has been developed and possession is available for each category, yet there are still options available for investors to make investments in the non-developed portion. 
Block D is also known as the D Markaz and is the main commercial and business center of Gulberg Residencia. Currently, ten commercial projects are under development and will reach their final shape soon. Once the development of different projects in D-Markaz is completed, the prices of the plots closer to it will rise exponentially. The key feature of this block is, there is no residential plot in the block and it has been dedicated to commercial plots. All the commercial activity of residencia will be handled in one compact planned infrastructure. There are ample opportunities for brands, Companies, and individual businesses to flourish.
Block E is an Elite class block with plot sizes of only 1 Kanal. The Block has symmetry and is thus notably preferred by the public. Another aspect that adds to its worth is its location. Like the C block, it is directly connected to D Markaz but from the opposite side. End users who are looking to start the construction work as soon as possible prefer E-block, and in fact, a considerable amount of houses have already been constructed. Possession is available on plots throughout the Block.
The best part of the Executive blocks is that they give you the freedom of choosing your favorite plots. Similar to that, E-Executive offers its buyers to enjoy anonymity since the project has recently been added and has a large availability of plots. The E-Executive, like the E block, also has only 1 Kanal plotting. This Block is not completely developed like the E block, and therefore the plots are available at lower prices.
F block is connected to the E block via East Avenue, which is around 100" wide and is directly connected to the G block. It is also linked to the H block via East Avenue. Like the E block, the F block is almost developed, with possession being granted to the owners. With the plot sizes of 10 Marla and 7 Marla, the Block is preferred by the owners eyeing smaller plots. Construction work has started on many plots, and a lot has already been constructed.ontent
Plots in the F block are a bit expensive, so all those buyers looking for similar sizes of plots but are in no hurry to start the construction can buy a plot in the F executive. The plot sizing here is the same as the F block, I.e., 10 and 7 Marla. Along with lower prices, buyers can enjoy the added benefit, the autonomy of choice when buying a plot in F-executive compared to the F-block. Due to the larger availability of plots, there are higher chances of buying the plots firsthand at standard prices.
Block G is immediately adjacent to the F block and is connected to the H block Via East Avenue. The plot sizes available here are similar to the F bock that are 7 Marla and 10 Marla. Development has only been completed to about 15 % in the Block, and possession is available accordingly.
Block H has 7 Marla and 10 Marla plots. 25% of the plots are developed, and this Block is relatively larger than the G block. It is attached to the O block via the HOP 50" wide road. It contains a school, parks, mosques, and other such amenities available. The land near to circular avenue and East avenue of H block is developed and a few houses have been constructed the rest of the block is either in the cutting phase or non-developed which makes it suitable for the investments. 
I block is connected to D Markaz and is also connected to the E block via Circular Avenue. Circular Avenue is a fairly spacious pathway starting from one end of the D-Markaz from between the C and J block, circulating and touching the whole J block, L block, S block, N block, Q block, O bock, and then finally uniting again to the D Markaz passing by E Block and I block. In the I block, 85% of the developmental projects have been completed, and a lot of plots have reached the fully developed status. Construction is underway on around 50 plots, and it is considered one of the elite blocks of Gulberg Residencia. The plot sizes available in the I block are again 7 and 10 Marlas.
J block is also located adjacent to the D Markaz and is also thus considered one of the prime residential locations of the Gulberg Residencia. Many houses are built in 1 Kanal cutting and a few more are under construction in 7 marlas and 10 marlas area, in general around 80% of the plots have been developed just a few Kanals are semi-developed condition at the boundary. Sizes available in the J block are 7M, 10M, and 1 Kanal.
Block K is located at the outskirt of the circular Avenue, which separates it from the L block. It is, however, connected to the V block. Development has yet to begin in this Block and is currently fully underdeveloped. The plot sizing here is 7 Marla, 10 Marla and 12 Marlas. This portion of land is considered an investment hub, as the development will start the prices will rise exponentially.
Block L is located on the side of the circular Avenue directly opposite Block K and is further connected to Block M, Block R on one side, and block J on the other side. The plot options you have in block L are again 7 Marla, 10 Marla, and 12 Marla. 65% of the Block has been developed, and possession on 7 and 10 Marla plots has begun. In addition to that, a lot of residential houses are already under construction.
Block M contains a fairly lesser number of plots and it is located in the middle of Block J, K, L, and R. Regarding the construction, around 60% of the Block is developed, and possession on more than 100 plots of 7 Marla has been provided. The only plot size available in the M block is 7 Marlas.
Block N is surrounded by Block I, block O, block Q, and Block M. Since the development in Gulberg is random, Block N has only reached 5%. Plots of 7 Marla, 10 Marla, and 1 Kanal are available in this Block. It is separated by the O block through the circular Avenue, and similar to the M block, it is located at a distance from the D Markaz. Therefore, the plots here are relatively cheaper.
Block O is traversed by 1 major Avenue, the circular Avenue which separates it from Block N and two roads; the HOP and OPP. The HOP separates it from the H block, and the OPP separates it from the P block. The plots breakdown is in 7 Marla, 10 Marla, 12 Marla, and 1 Kanal. As of now, the possession is available for various sizes and the gradual development is continued for the rest. The development in this Block has been completed by 30%. Another feature of the O block is that it is situated near the AJK society.
It is the largest Block of Gulberg Residencia and is further subdivided into 4 parts: the P1, P2, P3, and P4. The main Avenue of the P block is called the Main Boulevard. P block and is continuous with the OPP wide road of the O block. As this is located quite farther from the D-Markaz, the plots are available at comparatively lower prices. Even its location around the edge of the society has not stopped buyers from bidding on it; in fact, it is one of the most popular blocks, majorly due to the lower prices. Another thing about the P block is that it is located close to the OPF society and the Senate society.
Plot sizes in the Q block are 10 Marla, and 1 Kanal. With development work only accomplished to about 20%, Block Q is mostly preferred by buyers who do not plan to start construction immediately. The Block shares its borders with Block R, Block S, Block N, and Block P but is fairly a smaller block.
Block R is right next to block M, and on the other side it is connected with Block Q. There are four sizes available in this block which are 7M, 10M, 12M, and 1 Kanal. The number of plots in 12M and 1K cutting are very few. As far development is concerned, the area near the circular avenue is developed which is around 30%, rest of the area in this block is non-developed.
Right next to the R block, Block S is located, closer to the side of circular Avenue. Block S only has 1 Kanal plot cutting, though the development in the Block has reached around 20%, possession is yet not available. It also encompasses a college along with parks and a mosque.
T block is one of the largest blocks in Gulberg residencia. The plots available here are 7 Marla, 10 Marla, and 1 Kanal. About 90% of the block is developed and possession is also closer to this number. There is a lesser amount of non-developed plots also available, as the distance between this block and D Markaz is quite much, the prices are fairly lower and it holds a lot of investment opportunities.
V block is the last block of Gulberg residencia. It is accessible via Circular Avenue, there are three sizes available in this block which are 7 Marla, 10 Marla, and 12 Marla, this block is also linked with the Naval Anchorage.
A recent addition to society is the AA1 block. It is considered to be the Block with the least plot prices. It is currently non-developed and contains plots of 5 Marla, 7 Marla, 10 Marla, and 1 Kanal. It is noteworthy that it is the only plot that contains 5 Marla plots.
Gulberg Smart Lifestyle villas
A remunerative and reliable Project of Gulberg Islamabad. A Process of making a gated community to provide quality and tranquility. People who want to make a dream home at Gulberg Residencia at lower prices now have the golden opportunity of owning fine and imperial villas in A-Executive. The best part of this project is that Gulberg has announced these villas to be availed through easy installments of 3 years. The area allocated for Villas begins from the point where Main boulevard II meets Sports avenue continues along Main boulevard II.
t is noteworthy that these villas are the only residencies in Gulberg Residencia that will be available in installments, and the booking is available just by 15%, while all other plots are only available on cash payments. For all those who were waiting for a budget-friendly plan to buy a residence in Gulberg Residencia, this is their chance. The size allocation for villas is 5 Marla, 7 Marla, and 10 Marla. All the elevations and floor plans along with material are planned, conveyed, and available for sharing. Model villas for each category will be constructed within six months and would be available for onsite visits afterward. Clients with full payments will be given priority and the first lots will be handed over to them, likewise, all the villas will be handed over to their owners after project completion communicated to be up to 3 years.
The developers have paid great attention to bringing modern-day facilities to the residents of the Guldberg Residencia. This is reflected through the development of a large number of grand projects and the continuous supply of basic facilities. Among the commercial hubs, there are Rabi Center Gulberg and Magnus Mall. In addition, Gulberg Grid Station ensures that the residents enjoy an uninterrupted electricity supply. The wide and spacious roads and streets allow easy transport. The society has dedicated tracks for walking and jogging. It also features gymnasiums, fitness clubs, auditoriums, public libraries, sports complexes, golf clubs, theater, cineplex, hotels, and elite dining places. Gulberg Residencia allows its occupants to adopt a carefree and safe lifestyle by inhabiting Pakistan's top-class housing society. Due to its serene environment, scenic beauty, well-organized and planned infrastructure, rapid development, it has become an ideal residential community for potential buyers and investors. It has been designed to bring the best of both, beauty of nature and modern-day living amenities.