Mount Khalid | Premier Residential Complex
Welcome to Mount Khalid, the premier highrise residential complex in Gulberg Islamabad. Developed by the renowned Khalid and Khalid Group of Companies, offers a luxurious and modern lifestyle within a secure gated community. Explore our diverse range of spacious apartments, indulge in extensive amenities, and trust in our commitment to quality and customer satisfaction. Discover the perfect home for you today!
2. Unparalleled Residential Living
Immerse yourself in the epitome of contemporary living at Mount Khalid. Our meticulously designed apartments offer a perfect blend of comfort, elegance, and functionality. Each residence is crafted to provide a serene and comfortable abode, ensuring an exceptional living experience for our esteemed residents.
3. Prime Location in Gulberg Islamabad
Enjoy the convenience of a prime location within Gulberg Islamabad's prestigious housing society. Mount Khalid is located on the 220′ wide Gulberg Expressway in B – Block surrounded by beautiful gardens and an 18-hole golf course and a splendid lake. Offers easy access to a range of amenities, including schools, hospitals, shopping centres, and transportation links. Experience a well-connected lifestyle that caters to your every need.
4. Apartments Layout Plan
Mount Khalid presents a range of apartment sizes to suit different preferences and requirements. Whether you're a young professional, a growing family, or someone seeking a spacious retreat, you'll find the perfect layout. The apartments include 
One-bedroom 

has only one size and it is called Type A

Two-bedroom, has 04 size variations Type A, Type B, Type C and Type D.
Three-bedroom, has 04 size variations Type A, Type B, Type C and Type D.
 Penthouses or Sky Lofts
5. Payment Plan Mount Khalid
We offer Premium Apartments at a leisurely 04 Years Installment plan, with an easy 20% Downpayment followed by 48 Monthly Installments and 16 Quarterly Installments with astonishing views to decide with every apartment are:
6. Ample Space and Convenient Parking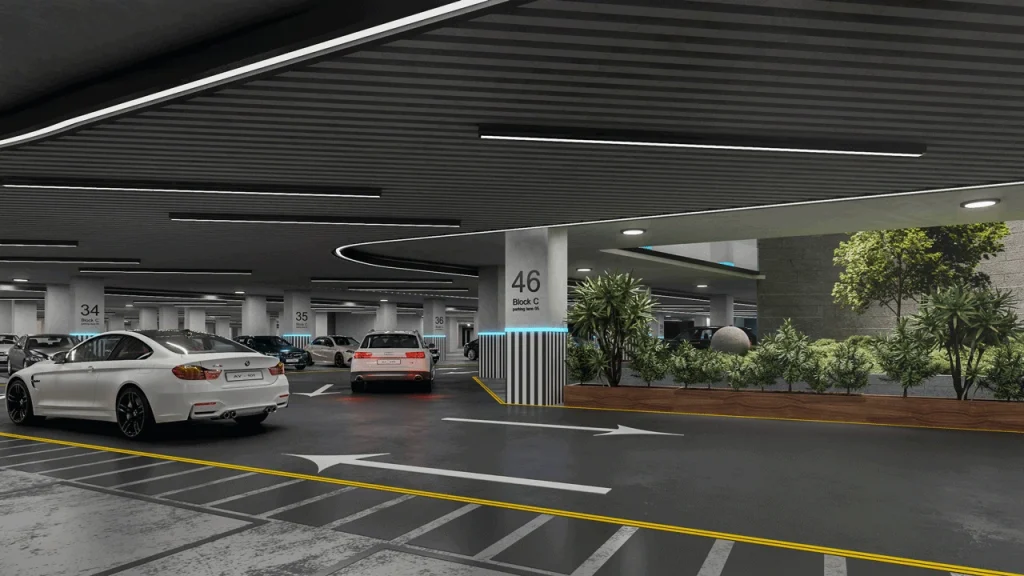 Space is never a compromise. Spanning across 117 kanals, our highrise complex offers breathtaking views from its 45 floors. To ensure hassle-free parking, we provide 04 dedicated floors exclusively for parking, giving residents the convenience they deserve.
7. Extensive Amenities for a Holistic Living Experience
Indulge in an array of amenities designed to enhance your quality of life. 40+ Amenities are offered including a fully equipped Gym, Jogging Tracks, Fitness Club, Sauna & Spas, Cycling Track, Amphitheatre, Kids Play Area, Indoor Sports, Home Automation, Mousque, Gated Community, business facilities for professionals and much more. Our commitment to safety, security, and an enriched lifestyle is reflected in the comprehensive amenities we offer.
Frequently Asked Questions (FAQ's)
Where is Mount Khalid Located?
Mount Khalid is a HighRise Residential Complex located in Gulberg Greens Islamabad B - Block on 220' wide Gulberg Expressway.
Who is Owner of Mount Khalid?
Mount Khalid is Developed by Khalid and Khalid Group of Companies, mainly known as owners of Toyota Rawal Motors.
Total Area / Size of Mount Khalid?
Total Area of Mount Khalid is more than 100 Kanal approximately 117 Kanals. Total 04 Towers, and total number of Floors are 45.