A Executive Premium - Your Dream Plot on Installments
Welcome to A Executive Premium, the latest addition to the luxurious housing society of Gulberg Islamabad. We offer you an exceptional opportunity to book your plot in instalments in this premium block, enabling you to fulfil your dream of owning a plot in a prime location without worrying about paying the entire amount upfront.
In this article, we will provide you with detailed information about this excellent opportunity, the plot sizes available, payment plans, discounts, additional charges, and other essential details to help you make an informed decision about investing in this premium block.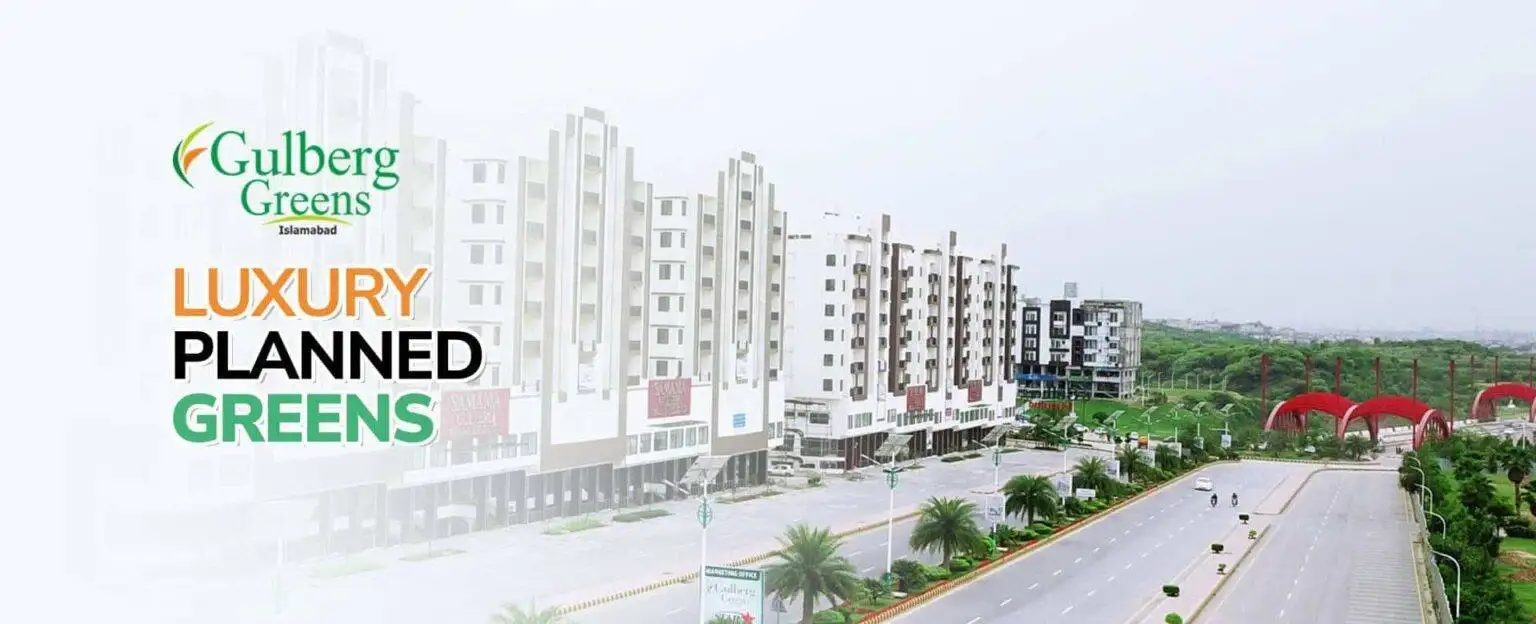 Introduction to A Executive Premium
A-Executive Premium block is a newly launched block/sector in the prestigious housing society of Gulberg Islamabad. This block is specifically designed to cater to the growing demand for high-quality residential plots with exceptional facilities and features.
In this block we are committed to providing you with the best possible services and amenities that will make your life comfortable and luxurious. Our team of experienced professionals is dedicated to ensuring that you get the best value for your investment.
There are a verity of sizes available in this block, catering to different preferences and needs. These plot sizes include:
5 Marla (25*50)
6 Marla (30*50)
7 Marla (30*60)
10 Marla (35*70)
12 Marla (40*80)
01 Kanal (50*90)
All these plot sizes are available on a 3-year installment plan, with a booking fee of just 10% and the remaining payment to be made in 3 years. You can select the plot size that best suits your needs and budget and enjoy the flexibility of paying in installments.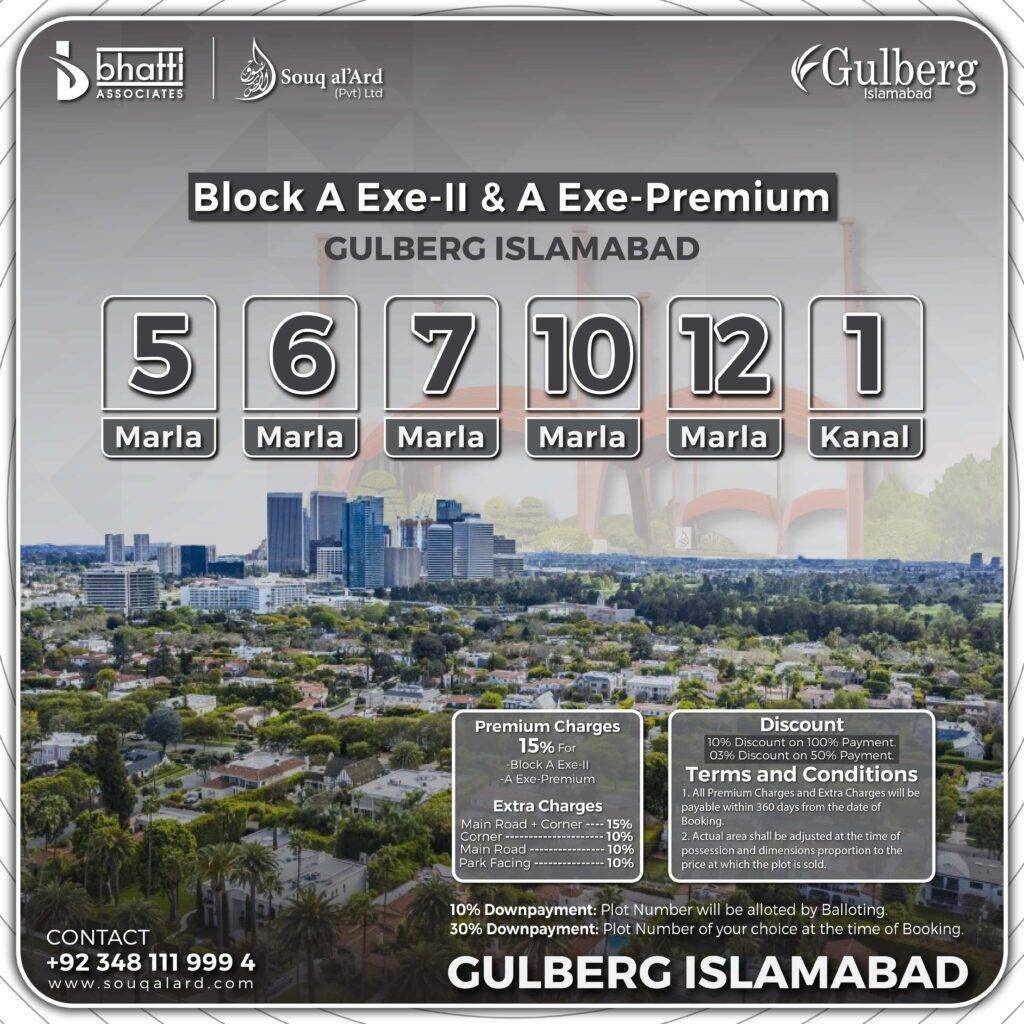 A Executive Premium Payment Plan
We understand that investing in property can be a significant financial commitment. To make it more convenient for our valued customers, we offer flexible payment plans that allow you to pay in installments over three years.
Our payment plans are designed to cater to the needs of a wide range of customers, whether you are a first-time buyer or a seasoned investor. With just a 10% booking fee, you can secure your plot and start paying the remaining amount in easy installments over the next 03 years.
A Executive Premium New Payment Plan
A Executive Premium Old Payment Plan
A Executive Premium Location
In addition to its attractive payment plans and plot sizes, the block also boasts a prime location in Gulberg Islamabad. it is situated right next to the old A-Block, which is the first block in Gulberg Residencia. As such, the new block has been named A Executive Premium to reflect its close proximity to the original block.
Moreover, it is located on a 220-foot main road, making it easily accessible for residents and visitors alike. The location of this new block within Gulberg Residencia also offers easy access to major road networks, including the Main Islamabad Expressway and the Kashmir Highway.
Overall, the prime location of this land adds to its appeal as an investment opportunity, as it offers residents the convenience of being close to major road networks and other amenities. With its flexible payment plans, attractive plot sizes, and prime location, this is a project worth considering for those looking to invest in the real estate market.
For the first time, direct booking is available for end-users in Gulberg Islamabad in A Executive Premium Block. This means that you can book your plot without worrying about transfer fees or taxes on the first-time allotment. This is a unique opportunity that you don't want to miss.
We offer attractive discounts to customers who make advance payments. You can avail of a
10% discount on 100% advance payment
3% discount on 50% advance payment.
No Transfer fee or Tax is applicable on the First allotment letter.
This is an excellent opportunity to save money while securing your dream plot.
We understand that location is essential when it comes to selecting a plot. That's why Gulberg Islamabad applies some additional charges for prime locations, including:
Premium Charges for A Executive Premium Block: 15%
Main road + corner: 15%
Corner: 10%
Main road: 10%
Park-facing: 10%
All of these premium and extra charges are to be paid within 360 days from the date of booking and these additional charges allow you to secure a prime location plot that will add value to your investment in the long run.
In conclusion, A Executive Premium is a new block/sector in the Gulberg Residencia offering an attractive opportunity for end-users to purchase their dream plots in instalments with a flexible payment plan. The available plot sizes range from 5 Marla to 01 Kanal, and there are various discounts and extra charges available for different types of plots. The project's 15% premium charges, to be paid within 360 days of booking, further add to the appeal of the project. The absence of transfer fees or taxes for first-time allotments makes the project more cost-effective for investors. Overall, A Executive Premium presents a lucrative investment opportunity for those seeking a luxurious lifestyle and steady returns on investment.