Gulberg Smart lifestyle is an exemplary initiative taken by the most remarkable and beautiful housing society Gulberg Greens Islamabad. Gulberg Islamabad is developed by the Intelligence Bureau Cooperative Housing Scheme. The society comprises of two main areas, Gulberg Greens and Gulberg Residencia.
Gulberg Islamabad is located alongside the main Express highway and is considered one of the best points that joins multiple societies and Islamabad. Islamabad Blue area is just fifteen minutes away from Gulberg Greens and access to GT road is just twenty minutes away.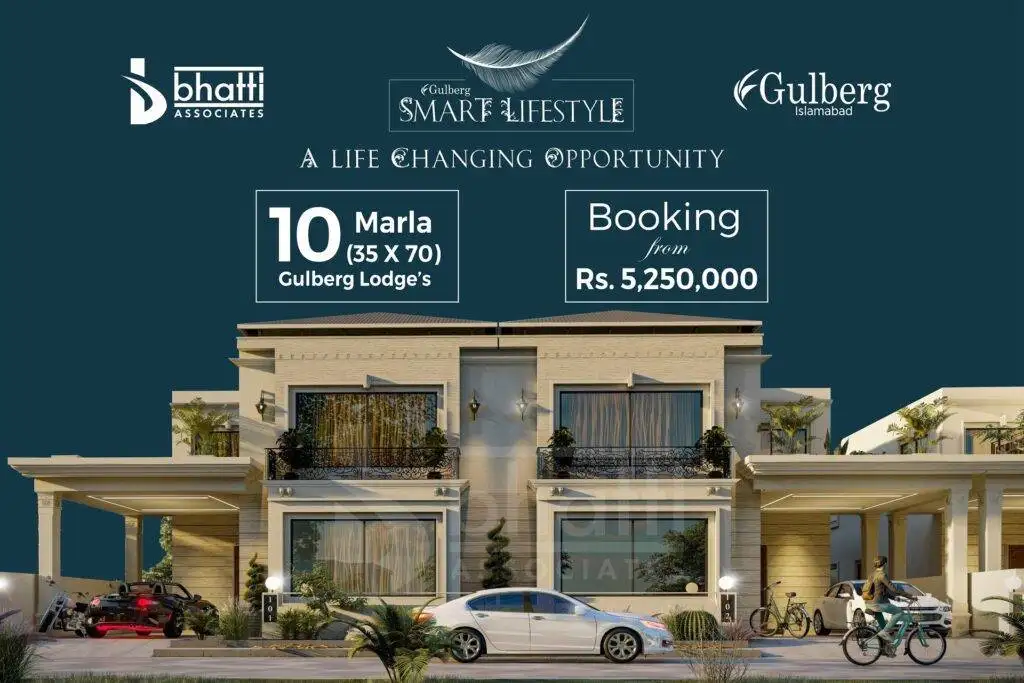 Gulberg Islamabad's Developers
Gulberg is one of Islamabad's most popular housing societies; it has tremendous potential and is considered a good investment. The society's development activity is now underway in the blocks, with a few fully constructed residential and business blocks available for immediate possession.
With the signing of a Memorandum of Understanding (MOU) with IESCO and SNGPL in 2009, the society's development activity began. Since then, 75% of the development work has been finished. The quality of societal development has been prioritized.
IBECHS's projects are all the most attractive and are in the most convenient locations. It is equipped with all of the amenities necessary to meet the demands of all members of the society, as well as beautiful vistas of lush green meadows and a peaceful environment.
All of Pakistan's Intelligence Bureau's planned communities are built to the greatest security standards and offer the best housing and business possibilities.
Gulberg Housing Scheme NOC
CDA has accepted Gulberg Islamabad's society NOC under reference number CDA/PLW-HS (127)/2009/257, NOC for SNGPL is SGMD-355/CR DT. 08/10/2010, and NOC for Electricity is 113/16/CEO/IESCO/CE(P&E) HS-258 DT. 08/02/2011. Anyone can verify the land legitimacy through the NOC number.
Gulberg Housing Scheme Location
IBECHS is located near Airport Chowk on the main Islamabad Expressway and has a very convenient access route. A dedicated Underpass has been built by the society which connects it to the hassle-free and single-free Islamabad expressway. IBECHS has an office in Gulberg Green where one can conveniently visit and verify the plot before purchase. All the allotments and transfers are done here systematically.
The Intelligence Bureau Employees Cooperative Housing Society (IBECHS) started this wonderful venture in 2005. It was created with the importance of a well-executed project that provides maximum security for the occupants in mind.
Gulberg green is located in zone 4 of Islamabad which is why all the plots are of larger sizes i.e. 10 Kanal, 5 Kanal, and 4 Kanal. These plots are called farmhouses and possession is available for construction. 
The Gulberg Residencia is linked to the Gulberg Greens via a 220 ft road known as Gulberg Expressway. This road connects the Islamabad expressway to the society and is internally the main access road in Gulberg green and Gulberg residencia.
Gulberg Residencia is roughly 6 to 7 kilometers away from the Islamabad Highway. The land is divided into a number of blocks which are A to V excluding U. The available plot sizes in residencia are 5M, 7M, 10M, 12M, 1K, and 2K.
Gulberg Islamabad's Master Plan
Gulberg Greens designated the blocks in the easiest alphabetical sequence, following the trend of other societies in the region, such as Park View City and Bahria Enclave. The business block of Gulberg Residencia's developed area is block D, while the remaining blocks are residential blocks.
These blocks have plots ranging in size from 200 square yards to 272 square yards, 356 square yards, 500 square yards, and 1000 square yards. The Gulberg Expressway is passing through A and B blocks on its route to the housing project's commercial sector. The construction along this expressway will result in the creation of Islamabad's newest Blue Area. All the plots alongside the expressway are commercial plots throughout the Gulberg greens.
All the residential blocks from A to V have three types of land categories i.e. non-develop. semi-develop/ cutting, and Develop. The prices of these plots vary according to their development status and the location compared to D Markaz.
The asphalt construction has been completed across society, and many streets have been paved. A large network of roadways in many blocks makes movement within the project much easier. Block V is close to Naval Anchorage, and it will shortly receive its entry gate from there.
As mentioned above Gulberg Islamabad is considered one of the best housing societies with lush green sceneries and multiple amenities with affordable payment opportunities. it is divided into two main areas Gulberg Green and Gulberg Residencia which means the overall infrastructure and masterplan of the housing scheme is based on multiple blocks as mentioned above.
Among these blocks, Block A in Gulberg Residencia is considered a prime block with numerous plot cuttings and other facilities. Recently, Gulberg Residencia has welcomed Gulberg Smart Lifestyle Villas in its A-executive block, which is a mere extension of block A. This is the best opportunity for those who want a luxurious lifestyle and luxurious environment.
Whenever someone talks about Villas, a sudden thought of captivating and astonishing infrastructure comes to one's mind because Villas generally consist of Stylish designing, swimming pools and big widen rooms and sitting areas along with huge car parking. Gulberg Smart Lifestyle is designed exactly on the above-mentioned features including all luxurious facilities.
Gulberg Lifestyle Developers
Gulberg Lifestyle is the leading project of RJ Greens and New York real estate and builders profiled as one of the most well-reputed real estates of Pakistan.
Gulberg Lifestyle Location
Gulberg lifestyle Villas are located in the most admirable block A of Gulberg residencia.
Gulberg Smart Lifestyle Masterplan
Gulberg Smart Lifestyle Villas master plan is one of the remarkable efforts done by the developers of Gulberg lifestyle villas. The master plan portrays the overall ideas, development, plot payment plan details, infrastructure, and features of the villas. According to Gulberg lifestyle villas master plan, right now there are three plot cuttings available including 5 marla, 7 marlas, and 10 marlas along with multiple facilities and amenities. 
Plot for sale in Gulberg Smart Lifestyle Villas are
Features of Gulberg Smart Lifestyle Villas
Fall ceiling
Amazing paintwork
Stylish woodwork
Steelwork
Tiles
Electric work
Door locks
Unique Marble work
Gulberg Lifestyle Payment Plan
The payment plan is the most important factor for investors because it provides detailed information regarding plot booking charges and the total rate. Gulberg Smart lifestyle payment is given below:
Facilities and Amenities Of Gulberg Smart Lifestyle Villas
Gated Community
Lush green scenery 
Outstanding security arrangement
Eye-catching infrastructure 
Availability of all utilities 
Affordable rates
Eco-friendly environment
Easy access to other points of Islamabad and Rawalpindi
Availability of commercial zone
Availability of playgrounds and walking tracks
The smart Lifestyle villas will be a state-of-the-art gated community, there would be only 405 villas in this community. All the features provided will be centrally handled through a designated medium. All the material used in these villas is clearly communicated and everything is selected in its finest form.
The tiles, Marble, Fans, Pre-installed AC Points, designed doors, Woodworks, Steelwork, and bath and kitchen fittings everything is well planned, and decided to beat the ongoing counter construction trends. After completion, this gated community will be a reference example to the local communities to build extraordinary structures on limited budgets.
Why invest in Gulberg lifestyle villas? If this question arises in your mind then the answer is simple, if you are looking for a luxurious and quality lifestyle then this is the best opportunity for you to have a wonderful life with your loved ones by buying these astonishing Villas. Other than their eye-catching infrastructure, these villas are available at a very affordable price and booking rates. Bhatti Associates is always here to suggest the best investment opportunities to our clients and investors. Feel free to ask anything or contact us on the given number