5 Marla Develop Plots in Block C : A New Chapter in Luxury Living

Welcome to the exquisite world of Gulberg Islamabad, a distinguished and sought-after housing society nestled in the heart of the capital city. Discover a harmonious blend of nature and modern living, where the splendor of Gulberg Greens and the charm of Gulberg Residencia create an unrivaled living experience.
Gulberg Islamabad proudly presents a dual masterpiece – Gulberg Greens and Gulberg Residencia. Let's delve into the details of  enchanting realms that define luxury and comfort in the capital.
Gulberg Residencia: Your Residential Haven
Gulberg Residencia is the epitome of residential elegance. Comprising various blocks from A to V, it boasts an array of plot sizes that cater to your unique preferences. Whether you envision a Smart 7 Marla home or a spacious 2 Kanal haven, Gulberg Residencia has something for everyone.
Intriguingly, each plot size in every block is further divided into three distinct subdivisions, each reflecting a different level of development. These are:
1. Develop Plots: The Crown Jewel
These plots are meticulously crafted, ready-to-construct canvases that await your architectural aspirations. Purchase a Develop Plot, and you're one step closer to turning your dream home into a tangible reality.
2. Semi Develop Plots: Where Potential Awaits
Semi Develop Plots offer the ideal balance between convenience and customization. With a touch of development, they present an enticing canvas for those who seek a blend of convenience and creative liberty.
3. Non Develop Plots: The Blank Canvas
While they may be labelled as "worst" in terms of development, Non Develop Plots carry the potential to be transformed into personalised havens. These plots provide a blank canvas, inviting you to shape your vision from the ground up.
5 Marla Develop Plots in Block C
In an unprecedented move, Gulberg Islamabad introduces a new dimension to its legacy. For the first time in its illustrious history, a new size emerges in Block C – the elegant 5 Marla Develop Plots. What sets these plots apart is their exclusive status as Develop Plots, the epitome of readiness for construction.
Imagine owning a piece of land where your vision can take root immediately. The 5 Marla Develop Plots in Gulberg Residencia's Block C redefine the meaning of contemporary living. They stand as a testament to Gulberg's commitment to innovation and offering prime opportunities to its discerning residents.
Don't miss the chance to claim your stake in this historic moment. Acquire a 5 Marla Develop Plot in Block C and embark on a journey to craft your ideal home, backed by the impeccable infrastructure and facilities that Gulberg Islamabad is renowned for.
Come, be a part of this groundbreaking chapter in the story of Gulberg Residencia. Your dream home is now just a step away.
Block C - 5 Marla Plots - Payment Plan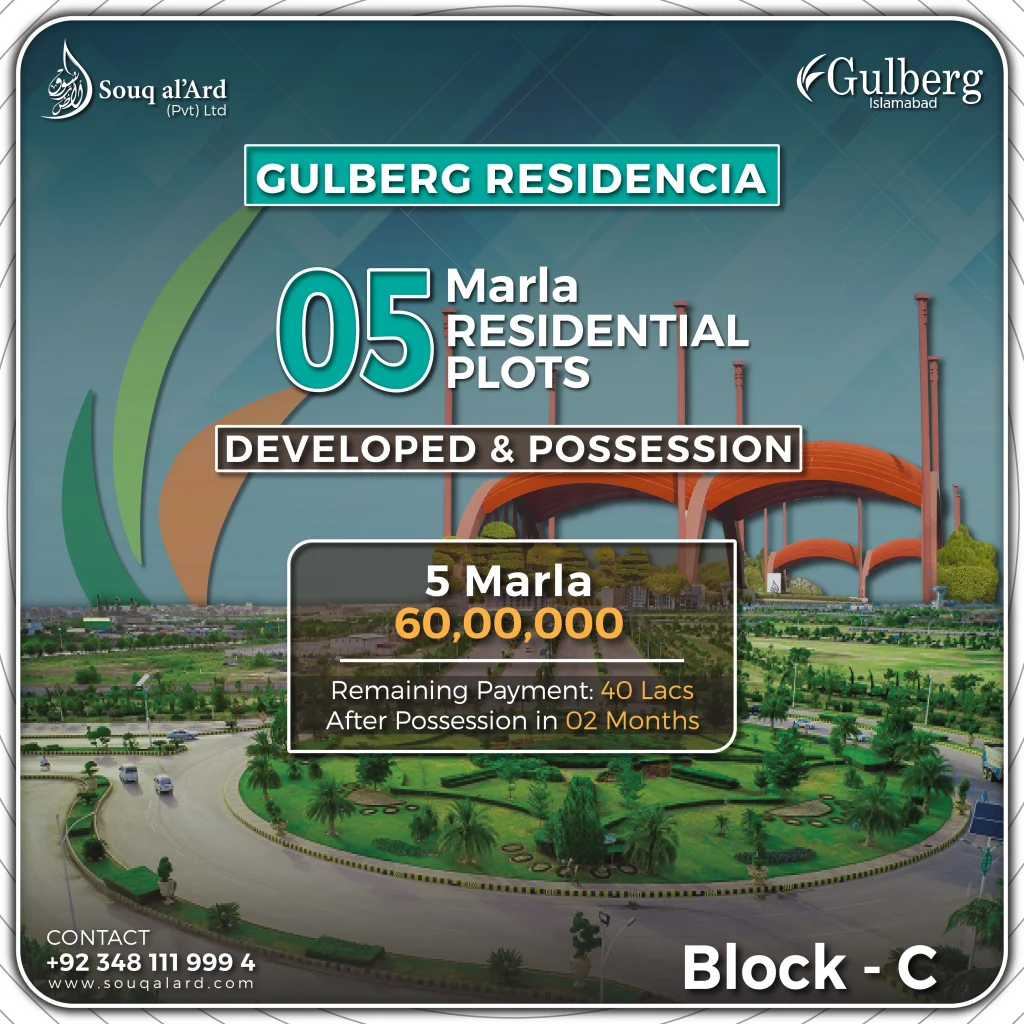 Block C - 5 marla Plots Location
In addition to its attractive payment plans and plot sizes, the block also boasts a prime location in Gulberg Islamabad. it is situated right next to the old A-Block, which is the first block in Gulberg Residencia. As such, the new block has been named A Executive Premium to reflect its close proximity to the original block.
Moreover, it is located on a 220-foot main road, making it easily accessible for residents and visitors alike. The location of this new block within Gulberg Residencia also offers easy access to major road networks, including the Main Islamabad Expressway and the Kashmir Highway.
Overall, the prime location of this land adds to its appeal as an investment opportunity, as it offers residents the convenience of being close to major road networks and other amenities. With its flexible payment plans, attractive plot sizes, and prime location, this is a project worth considering for those looking to invest in the real estate market.
For the first time, direct booking is available for 5 Marla plots in Gulberg Residencia Block C for end-users and investors. This means that you can book your plot without worrying about transfer fees or taxes on the first-time allotment. This is a unique opportunity that you don't want to miss.

Call us at our UAN Number: +92 348 111 999 4. or Whatsapp us at +92 348 111 333 2.
You can also visit our Contact Page
We offer attractive discounts to customers who make advance payments. You can avail:
5% discount on 100% advance payment
No Transfer fee or Tax is applicable on the First allotment letter.
This is an excellent opportunity to save money while securing your dream plot.
We understand that location is essential when it comes to selecting a plot. That's why Gulberg Islamabad applies some additional charges for prime locations, including:
Main road + corner: 15%
Corner: 10%
Main road: 10%
Park-facing: 10%
All of these premium and extra charges are to be paid at the time of booking and these additional charges allow you to secure a prime location plot that will add value to your investment in the long run.