Khyber Golf City is a project of KGC Holdings that contains all the fundamental necessities of present and modern-day facilities to make your lifestyles smooth and secure. High-quality architecture, modern infrastructure, wide roads, parks, sports facilities, health and training facilities, nonstop supply of electricity, 24/7 security surveillance,  and waste management system. Commercial and Residential Towers and plenty of more unique recreational areas have been added to the master plan to fulfill all the needs of residents of Khyber Golf City.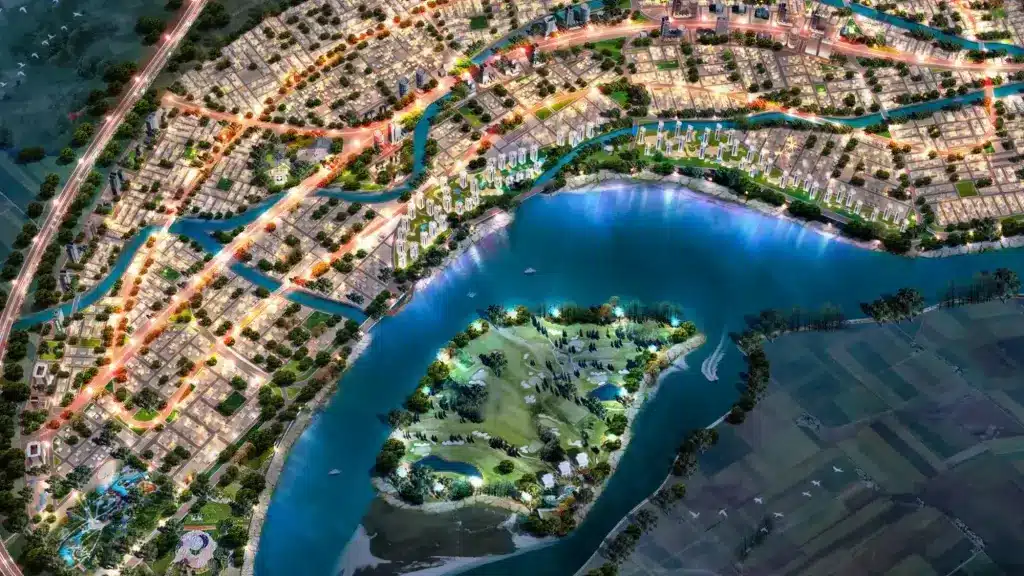 KGC Holdings, the project developers and Owners of Khyber Golf City, is a part of the consortium of various multinational groups. KGC Holdings has played a vital role in the real estate development and FMCG sector in UAE, the Middle East, Africa, and Karachi. KGC Holdings is an organization behind the aspiration to blend the three primary aspects of urban Living, Residence, Commerce, and Recreation! Our goal is to create projects that provide residents with easy access to basic necessities as well as the comforts of modern life.
Khyber Golf City is located on Islamabad – Peshawar Motorway M1, with a stunning front of 3km on Motorway M1. Khyber Golf City is directly accessible from M1 Motorway Charsadda Interchange. This land of Khyber Pakhtunkhwa is very attractive wherein there is a lot of greenery with the Kabul river flowing in between, and beautiful views within the master plan prepared by the Khyber Golf City. You'll immensely experience the beauty of the river located within the middle of this network surrounded by greenery. Its proximity to Swat and Rushkai commercial area is also known as the Gateway to Tourism. Khyber Golf City is located close to Charsadda, Risalpur, Nowshera, Kohat, Swabi, Mardan, and Islamabad permitting smooth access to these kinds of towns.
The housing venture will have the best master plan to include the ideal investment rates for all investors. And with the international-level facilities and features, the developers will offer the residential dream opportunity for all. Moreover, residential and commercial facilities will be available with premium quality and international standards features. And the developer's idea is to make an excellent investment option so they can achieve long-term living goals. Most importantly, the land available for living purposes will be 40,000 Kanals.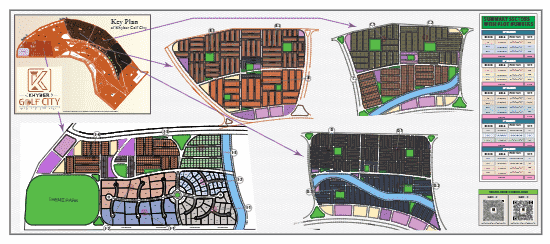 Khyber Golf City Offers 5 sizes in the Residential Plots Category with a 4-year easy installment plan in addition to just a 20% Down-payment. Sizes are 5 Marla, 7 Marla, 10 Marla, 14 Marla, and 1 Kanal.
5 Marla plot total price is 2,390,000/– with downpayment of 20% 478,000/- and monthly installment will be 19,750/-
7 Marla plot total price is 3,305,000/– with downpayment of 20% 661,000/- and monthly installment will be 27,000/-
10 Marla plot total price is 4,396,000/- with downpayment of 20% 879,200/- and monthly installment will be 38,000/-
14 Marla plot total price is 6,022,000/- with downpayment of 20% 1,204,400/- and monthly installment will be 49,000/-
01 Kanal plot total price is 7,313,000/- with downpayment of 20% 1,462,600/- and monthly installment will be 60,500/-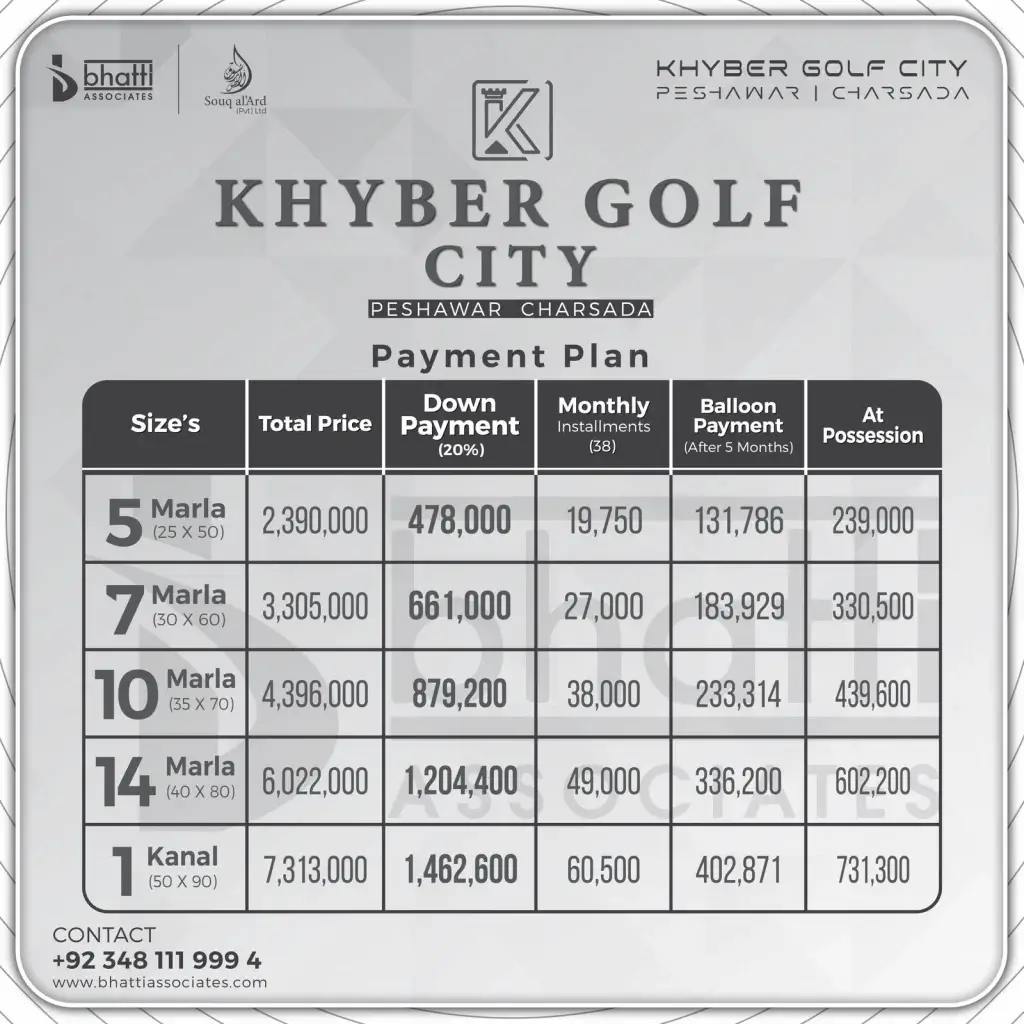 Office of Tehsil Municipal Administration Charsadda has officially approved Preliminary Planning Permission (PPP) and Layout Plan (LOP) for KHYBER GOLF CITY.
As the map indicates, it's a diversion of a curve side city. It's not only beautiful but very rich in taste for people who reside in the world of dreams. Life is so competent in the name of residencia that people tend to adopt a mode or style that resembles their needs following moods. So, welcome to Khyber Gold city, where design meets your spirit and class meets your needs, yeah!! It reflects all your needs in a half hour of your cultivation of thoughts.